The Canberra Times reports today that "Thieves threaten our water supplies" – referring to doubts that water purchased by the ACT from Tantangara Dam could reach ACTEW's pipeline to Googong Dam at Angle Crossing on the Murrumbidgee River without being "stolen" by NSW landholders along the way – note the pipeline is currently under construction. A year ago Prof Ian White of ANU warned ACTEW of this exact issue. Note that he also warned that ACTEW had paid too much.
I still have to pinch myself to think that any prudent water authority would buy water from Tantangara unless it was on the basis of a price per unit – ex the river metered in the ACTEW pipeline. Then it is up to the seller, NSW State Water Authorities – to let the water run the 150km from Tantangara Dam to Angle Crossing. In my opinion the ACT Govt should retrench many high level ACTEW people incl most of the huge board. Water supply for a medium city of 300K people does not need the bloated ACTEW to work well. The ACTEW boss has a salary package $637K – cop that for a small utility. While on that subject ACTEW should cease sponsoring sporting teams and should drastically cut back much wasteful ACTEW TV advertising.
I notice at the end of todays article National Irrigators Council chief executive Tom Chesson complains that, "Everyone up and down the river is taking a haircut to provide environmental flows, except Canberra."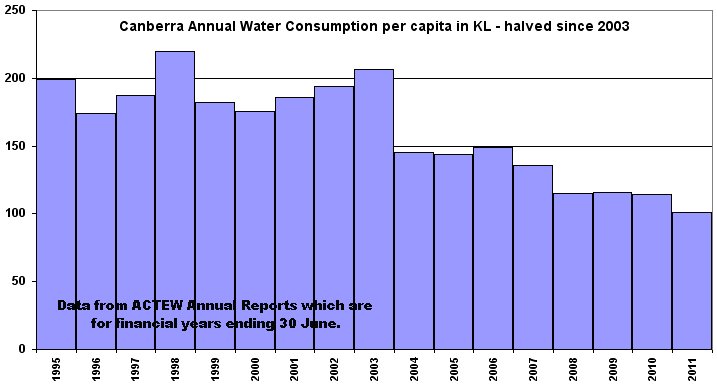 Canberra people have been "taking a haircut" by reducing their per capita water consumption for years – and at the same time paying more for less water. Unlike NSW water users down the river who pay much less for their town supplies.