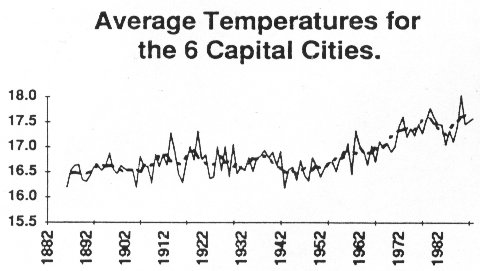 Sydney, Melbourne, Brisbane, Perth, Adelaide, Hobart

The East Anglia study contains other data with the potential to cause bias, notably truncation of data in many stations, so that they covered only the most recent 30 years. During those 30 years, some warming undoubtedly occurred following a general cooling period up to the 1940's, a phenomenon which can be observed in Graph 1 above.
This study does not attempt to produce a temperature trend for Australia as a whole, although the trend of the remote stations where long term data is available provides a guide. Perhaps of greater significance, our detailed examination of the Australian data reflects adversely on the entire data set used by the East Anglia study, a data set that has been highly influential in providing apparent corroboration of global warming.
On 24 Nov 2009 I posted a blog article
"Jones et al 1986 methodical insertion of warming bias"
which is seven pages from The Australian Record on "Global Warming" dealing with Short Term Records.
---
Jones et al trends in South Africa
are even more dominated by cities than their Australian data.
In 1991 I started hunting down temperature data that was not used by Jones et al 1986 and this lead to me contacting the South African 'Weeburo" late in 1991 by mail. Despite considerable turmoil in that country I had the luck to encounter a helpful official who mailed me back a couple of diskettes with rural and small town data from 1960-1990.
This lead to the 1996 paper with Professor Robert C. Balling Jr., of Arizona State University which was posted online years ago by the late John Daly.
1996 Warwick S. Hughes and Robert C. Balling, Jr. "Urban Influences on South African Temperature Trends." International Journal of Climatology, Vol. 16, No. 8, pp. 935-940. Online at
http://www.john-daly.com/s-africa.htm
The paper demonstrates large differences between rural trends and the Jones et al trends dominated by cities.
Of course hugely ignored in IPCC circles. After 1991 I tried to obtain longer term S.A. data but co-operation stopped after they were contacted by BoM people. We know how it works.
---
Starting in 2000 I began my web pages "Global Warming".
Reviews of Jones et al station data have been posted on a
city by city
basis.
There are also reviews of
complete station data
for various 5 degree grid cells, in parts of the USA, Canada and the old USSR.
My most extensive review is
"USSR High Magnitude Climate Warming Anomalies 1901-1996"
, the very core of IPCC global warming.
Posted 26 Sep 2005 The site will be expanded over at least the next year
Contributions, ideas, feedback and comments welcome, confidentiality is assured if required.