Thanks to Graeme Inkster for bringing this to my attention from the Investigate Magazine of Ian Wishart.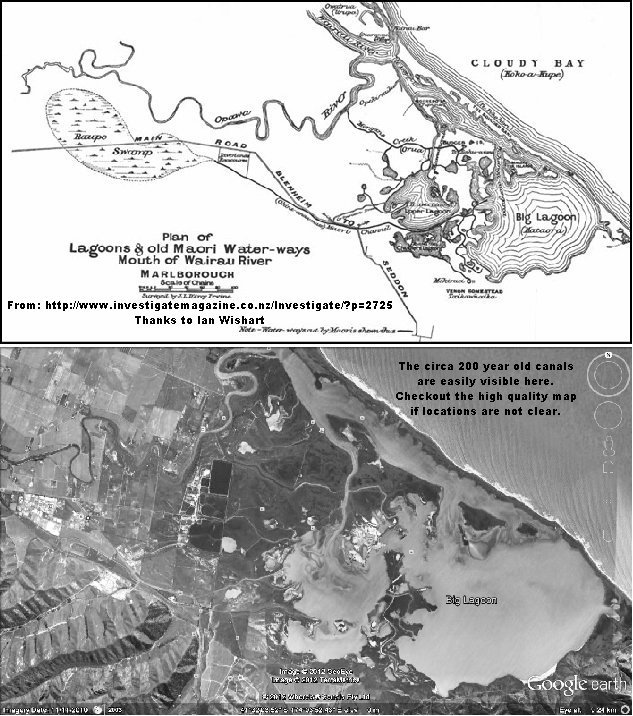 I found the 1912 source paper online – thanks to the The Journal of The Polynesian Society. The 1912 paper "ANCIENT MAORI CANALS. MARLBOROUGH, N.Z." by W. H. Skinner – states – "These Canals or channels are a unique feature in the topography of the 'Mud Flats' near the mouth of the Wairau River, and are about six miles from Blenheim, and average about two miles from the seashore. The Canals are evidently the work of numerous bands of Maoris, who must have toiled for years in the excavation of the various waterways, as they are of an aggregate length exceeding twelve miles." For higher quality map.
The paper say the canals were complete 100 to 120 years ago which was circa 1800 – so we are talking about sea level being essentially stable over 200 years.
We must not forget that at least two geological factors could be contributing to the relative level of sea and land here.
Land movements due tectonics and cumulative seismic activity might be raising the land.
Any locality at a river mouth where deposition of river sediments has been progressively loading the crust and the new sediments compacting – so must be sinking – with the level of the land being made up by continued deposition of river flat sediments. Eventually natural processes must fill in these canals – but it is fascinating they still exist and I look forward to hearing an expert assessment.
This map shows the active Alpine Fault and related faults as they pass through Blenheim – and note the cliffs bounding the south side of the coastal lagoons in this tourist photo probably mark the line of a fault scarp which would be a splay off the Awatere Fault.
New Zealand's Southern Alps are one of the fastest-rising mountain ranges in the world, and over the last 5 million years they have been moving up at an average rate of about a centimetre per year. This uplift is not continuous – much of it occurs in jumps of several metres at a time during earthquakes along the Alpine Fault.
Let us not forget the Late and Great John Daly – see his article on sea level at Port Arthur, Tasmania where an 1841 sea level benchmark is still well above low tide. Tasmania is relatively stable tectonically compared to New Zealand.