Rural petrol ripoff increasing again in Western Australia
Updated 24 August 2004

These two graphics show how Kalgoorlie and Carnarvon people are seeing the return of the bad old days of rapaciously high petrol price differentials when compared with Perth. FuelTrac price data for July shows the differential with Perth is increasing in Kalgoorlie and maintaining the high level in Carnarvon. Bunbury people are also getting that pain in the hip pocket nerve as FuelTrac's monthly average prices show the ever increasing differential with Perth prices.

Exactly at a time when Perth motorists (those who consider price) are enjoying relatively subdued pump prices compared with World Oil and much reduced crazy zig-zag price cycle variations, all following the entry to Perth petrol retailing of the two national grocery chains earlier in 2004.

Posted 14 August 2004
Country Town petrol prices Western Australia; raw data from FuelTrac downloadable at www.aaa.asn.au

For as long as we can remember in Australia country petrol prices have exceeded city prices by amounts way and above freight costs or what you might expect from smaller volume outlets having to charge more to make a living. Looking at W.A. price history data from 1998 for Perth and world oil plus the Perth pump price minus world oil Osama Index of Oil Co margins, we see the steady rise in world oil price in A$ starting in early 1999 and peaking late 2000 when high petrol prices got much media attention. It is interesting that Oil Company margins are highest when it is easiest for them to expand margins, ie. when world oil is low and a few extra cents get no attention. Note how in the run up to the peak of late 2000 margins were steadily squeezed with the down trend in the Osama Index. Note also how from late 1999 differentials between Perth and country pump prices increased and remained high long after Perth prices belatedly followed world oil down after early 2001. Were the Oil Companies recovering margins in the country that they had lost in Perth ?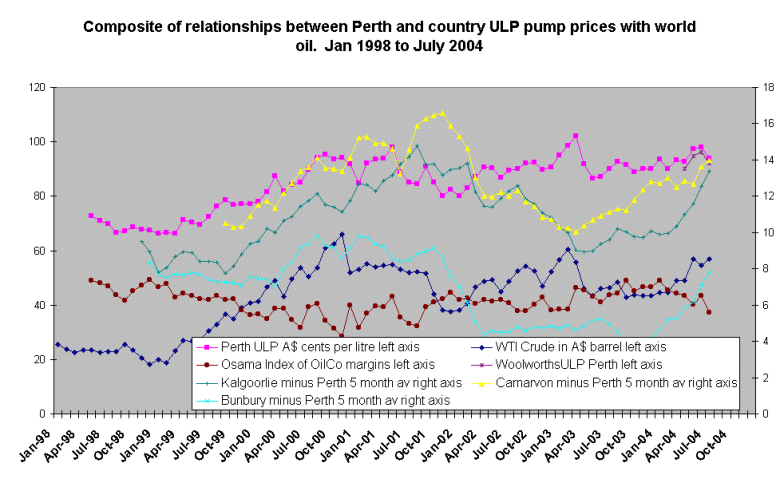 WA elected a new Government in early 2001 and there has been pressure on them over fuel prices and the high country differential, so that plus media pressure may have helped push down country differentials after 2001 at a time after 9/11 that the Oil Companies were able to slowly increase Perth (and all Australian city) margins, assisted by price scares due to Iraq early 2003 and culminating in their blatant not passing on price relief due to our strengthening A$ in late 2003.
Early in 2004 the national grocery chains Woolworths and Coles entered the Perth retail petrol market in a revolutionary move, to date the market has been transformed, no more crazy zig-zag price cycles initiated by OilCo predatory pricing power. However it is plain that from about a year ago in Kalgoorlie & Carnarvon and about six months ago in Bunbury there is a steep increase again in country price differentials. Are country people are subsidizing the fairer prices in Perth ?

Back to Petrol Prices front page

Back to WarwickHughes.com front page